Her dad is a funeral director and her mom works in hospice. She is a Grief Coach subscriber
Emma Payne · 7 July 2021
In May, a woman named Ann renewed her annual subscription to Grief Coach. Her name looked familiar when it appeared in my inbox, because - I realized - I remembered her renewing the year before. Ann was one of our first subscribers when she signed up in April 2019, just a month after we launched our new text-based grief support service. A year later she became the first person to ever renew their subscription, so I was especially pleased to see that Ann was renewing for a third year. I decided to reach out to see if she'd be willing to chat with me about her experience with Grief Coach.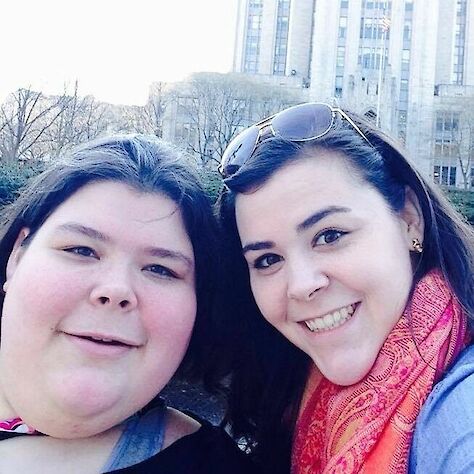 On our Zoom call a few days later, Ann let me know that she was 26 when her sister Sarah died. "My mother is a hospice nurse and my father is a funeral director'" she shared, "so I grew up knowing exactly what kinds of grief support were available in my rural community. None of those things felt right for me, but I knew that Sarah would insist I get support, so when I found Grief Coach on Instagram I decided to try it out."
Ann's sister, it turns out, was a bereavement counselor herself. Ann thinks it could be their parents' work that inspired Sarah to work in grief support, but also thinks maybe Sarah did this work because she often felt that her chronic illness wasn't acknowledged in the rural community where they lived. She did grief work, perhaps in part, because she wanted to help people acknowledge and talk about difficult things.
It was surprising to hear that Ann had so much exposure to grief support as a child. Most of us don't, after all. Ann remembers the brochures her Dad used to give to bereaved family members at the funeral home, and wanted something different. She shared that she finds our personalized texts really helpful. "I like that I don't need to make a conscious decision to block out time to read a grief support book or attend a group," Ann shared. "I like that text messages come directly to me personalized for my circumstance. When my texts came in they give me a reason to pause and think about Sarah and how I'm feeling."
It's always wonderful when our subscribers agree to chat with me about their experience with our text messages, but this conversation was extra special given that Ann's journey started at the same time as ours, at Grief Coach. She's been receiving our texts for almost as long as we've been sending them.
I asked Ann if she had any special requests or suggestions about the kind of support she'd find useful this year. "Keep doing what you're doing," she said. I was curious about if she liked the texts we send that refer subscribers to our favorite grief books, podcasts, videos and articles. We're very selective about the resources we share, and hearing Ann's feedback made me feel great about that decision.
"Early on I received a text message letting me know about a TedTalk by Nora McInerny," Ann shared. "It really resonated with me, so I bought her book and then later her other books too. Without my texts I wouldn't have known about Nora, so I'm grateful to Grief Coach for suggesting high quality resources like these, that are appropriate for my age and loss."
Grief Coach subscriptions also allow grievers to add in friends and family who want to support them. Ann included Sarah's best friend in her subscription, and said that, each time she renews, the friend wants to be included too. "Every time it's an enthusiastic yes," Ann said.
My growing Grief Coach team is working so hard to care for our subscribers and curate the very best content we can for everyone, so it was wonderful to share Ann's feedback with them. We do this work so that nobody will ever be left to grieve alone .. no matter how small their community, or how limited their budget, or what language they speak, Grief Coach makes it possible for people to get year long support when someone close to them dies.