Grief Coach subscriptions now include text support from Megan Devine
Emma Payne · 25 February 2021
Psychotherapist and grief advocate Megan Devine is the founder of Refuge in Grief, and author of the best selling book, It's OK that You're Not OK.
I'm thrilled to announced that she's also the new Lead Content Partner at Grief Coach. Megan and I have created a new text channel which will bring Megan's world-renowned grief support straight to your phones. All year long.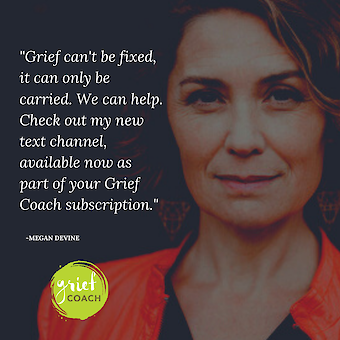 I've been a big fan of Megan's work for years, and love the way she advocates for a revolution in how we discuss loss - personally, professionally, and as a wider community. Her animated video about "How to Help a Grieving Friend" has been viewed over 40 million times and she's a featured expert in the PBS documentary Speaking Grief. We're now sharing her animation with Grief Coach subscribers, along with lots of other tips, suggestions and reminders that Megan has crafted especially for Grief Coach subscribers, and for the friends and family who love them.
Megan and I know first hand, that friends and family often aren't sure what to say or do when you're grieving. Our new text series can help. Every subscription contains personalized, year-long texts for grievers AND tips and suggestions for supporters as well. Because nobody should ever have to grieve alone.
Welcome Megan.