Grief Coach's new text-based survey tool delivers strong results
Vanessa Callison-Burch · 16 September 2021
As a product manager and new member of the Grief Coach team, I am curious and excited to learn about people's experiences with our service.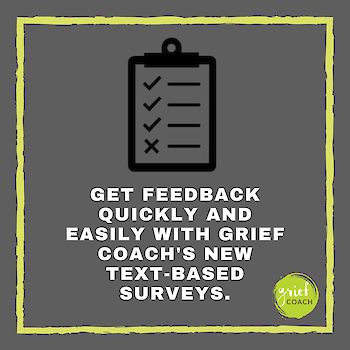 I know how much care and thought goes into crafting each text message that Grief Coach sends, and I am eager to understand how well that comes through to the people receiving them. How helpful do people find the text messages? Do the messages contribute to people feeling supported in their grieving process? What in particular do people find most valuable and what suggestions do they have for us?
As a way to answer these questions and more, I'm delighted to share that we've recently launched the ability to run surveys within the Grief Coach platform, thanks to some fantastic work by our lead engineer, Adrian. Earlier this month we conducted our first survey in collaboration with Hospice of the Western Reserve, one of our partner organizations whose bereavement team offers Grief Coach subscriptions to support family members of patients who have recently passed away. We sent a three-question survey to each of the Grief Coach subscribers from Hospice of the Western Reserve.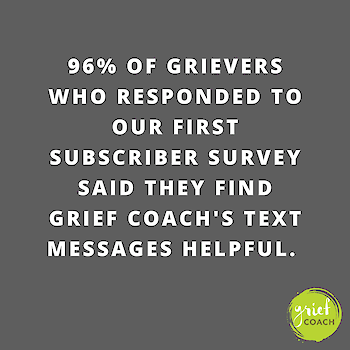 Within moments, we received our first responses, and within the first 24 hours, we had nearly a 50% response rate. (User researchers and hospice staff working on CAHPS and other surveys will likely appreciate how happy those response times and response rate made me.)
The results were strong: 96% of respondents said they find the text messages helpful and many expressed their heartfelt appreciation for this form of grief support. People shared how the messages spoke to what they needed to hear, offering support and encouragement at just the right moments. A number of people also said that they share the messages with friends and family, including loved ones who want to better understand the experience of grief and others who are themselves grieving. One person described the messages as "little nuggets of truth that are accepting, supportive, and encouraging."
If you are a Grief Coach partner and would like to work together on a survey to send to your Grief Coach subscribers, please reach out to our team. Our survey tool is versatile and we look forward to continuing to learn a lot through it.