Grief Coach affiliates share four ways to love and comfort a grieving person
Shelby Forsythia · 14 February 2022
Valentine's Day—a holiday devoted to the celebration of love and romance—can feel like a sucker punch to grievers. The sight of helium-filled heart balloons or the sound of a familiar love song can remind grievers not of happy memories they shared with people who died, but of all the love that is missing from their lives.
My name is Shelby Forsythia. I'm Grief Coach's Affiliate Program Manager, and this month, I asked our knowledgeable team of grief experts and death workers:
In this season that celebrates love, what's one way someone showed you love after a loss?
If you're struggling to come up with ideas for showering love on a grieving friend, see of any of these resonate with you.
Keep Checking In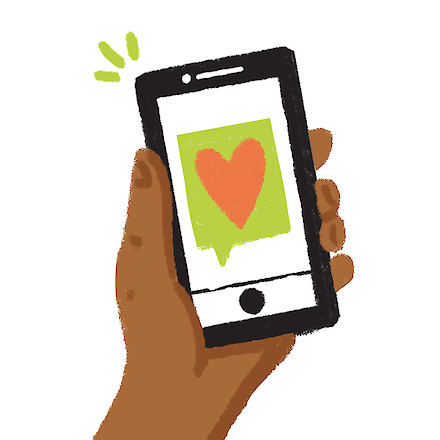 Grieving people report that support drops off drastically following a memorial service as friends and family members resume their regular routines. Grievers are left feeling abandoned—as if they've been left to figure out the rest of their lives all alone. Grief Literacy Coach and Trainer V. Ophelia Rigault told me, "A family member kept calling me and sending me positive messages, when I felt too heavy to respond. They were consistent. They kept checking in for more than a year. They didn't expect anything from me. No judgement. Only love."
Founder and President of Inner Harbor, Mandi Zucker, echoed that sentiment, sharing a story that combined meal delivery with consistent check ins: "One friend made me dinner and delivered it in her favorite dish. She told me that she was only letting me borrow the dish and she would call me in a few days to come and retrieve the dish. And then she did. A few days later, she came back for her dish, and came in to my house and sat with me. She did that a few times and each time we had a few minutes, or an hour, to sit and talk together. It meant a lot to me, even to this day almost 20 years later."
Perform an Act of Service
If making conversation is not your strong suit, take a look at your natural talents and generously offer them to your grieving friend. Gardening, making phone calls, dog walking, and dropping off groceries are all beautiful things you can do for someone who's lost a loved one. Dr. Karen Wyatt, a Hospice physician and author shared, "A friend arrived at my door with a potted plant in one hand and a vacuum cleaner in the other. She didn't say a word to me but walked in and started cleaning my house. She left after two hours and still didn't say anything, for which I was most grateful because on that day I didn't have the strength to talk to anyone. I felt loved when she gave me exactly the help I needed and didn't require anything from me in return."
Cathy Peters, founder of Educator's Heart Consulting, shared a heartwarming story about her husband (then boyfriend) stepping in to assist with administrative planning tasks after her mother died: "My high school sweetheart took it upon himself to help my sister and me prepare for the funeral services and repast after our mother passed in 2019. He took a lot of the pressure and stress off of us in so many ways including securing a florist who prepared the most beautiful floral spray for her casket as well as overseeing that the funeral programs were professionally printed in the way that we desired. He was by my side every step of the way and provided me with so much love and support through the whole process.".
Invite Them Into Nature
When in doubt, take it outside! Study after study has shown the mental and physical benefit of spending time outdoors. Plus, taking a walk or paddling down a river can decrease the intensity or awkwardness of speaking face-to-face. Max Lemper-Tabatsky, Co-founder of Oaktree Memorials told me: "After I went through a personal loss, I felt defeated and had no desire to go outside of my house. One of my best friends noticed this, and convinced me that going on a hike would be a good idea. It turns out it was a fantastic idea as the time outside in the sun and in nature was just what I needed. Grief is real and can often debilitate you, so giving yourself the chance—or having others invite you—to move your body and be present in nature can be very healing and impactful. My best friend made me feel loved and knew just what I needed at that time." Sometimes love after loss looks like earth underneath your feet and sky overhead.
Make Yourself a Safe Space for Grief
To your grieving friend, it can be enormously comforting to demonstrate that you're in a place where their pain and heartache are welcome. Let them know that everything they're feeling is okay, and that you'll continue to stick by them, even though there's no way to solve what they're going through. Award-winning writer Vivian Nunez shared, "I had a friend who during one of my deepest, darkest seasons told me, 'I may not know how to turn on the light, but I can sit with you in the dark.' To this day it's something I remember and how I try to be there for others. Less fixing and more being."
Fellow wordsmith and author of our very own Grief Coach texts, Katie Hawkins-Gaar, told me she felt loved by people who allowed her to be sad and complicated: "After my husband died, I felt most loved by my friends who made space for all of the hard, messy, and beautiful parts of grief. Some of my favorite memories are from nights we shared that started with tears, ended with laughter, and had a lot of wonderful stories packed in between." Story-sharing is a heartfelt way to show a grieving friend that you're comfortable saying their loved one's name and remembering their life together.
As for me, my most vivid memory of comfort after my mom's death is of a college professor who offered up her office as a safe place on campus. No matter what I was feeling or experiencing in that last semester of university, I was welcome to sit down, shut the door, cry, or take a much-needed nap. It was a pocket of refuge in a very institutional, grief-averse environment and I will always be grateful to that professor for making her tiny room a place my grief and I were welcome.
----
Want to join our team of affiliates and have your wisdom featured in an upcoming Grief Coach blog? Reach out to me at shelby@grief.coach to learn more.