Three ways Grief Coach texts help organizations deliver support for alzheimers and dementia
Shelby Forsythia · 29 June 2022
Losing someone to Alzheimer's or dementia is a heartbreaking, multi-faceted experience that includes many layers of grief. Make sure your organization supports relatives and friends of people with Alzheimer's and dementia not only while their loved one is alive... but also after their death. Grief Coach texts are a thoughtful, easy way to provide support for grieving families. Here's why:
1. We send specific texts for death related to Alzheimer's and dementia.
In addition to customizing texts with the name of the person who died, the name of the recipient, and the relationship they shared, Grief Coach texts are tailored to the cause of death.
For example, a Grief Coach subscriber named Amy who lost her mother, Fran to dementia might receive a message like this:
"Hi, Amy. You may have witnessed a lot of decline as you cared for Fran. Seeing her not recognize family, have personality changes, and struggle to care for herself may have been emotionally difficult. It can be really helpful to find someone to listen to you as you reflect back on some hard moments you experienced."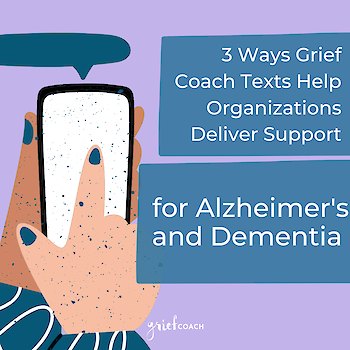 Grief Coach texts are written by real humans including grief experts, authors, and end-of-life professionals. Alzheimer's and dementia-related messages include wisdom and tips related to:
caregiving for the person who died
mourning disenfranchised griefs like loss of memory or loss of shared reality
feeling multiple emotions after the death
2. We coach family and friends with tips how to be there for them.
Every Grief Coach subscription comes with the option to invite "supporters" to receive texts with tips about how to be there for the person whose loved one died. These friends and family members get reminders of important dates (like birthdays and death anniversaries) as well as practical tips for being there for their grieving friend or family member. With Grief Coach you'll be providing expert support to grievers and also helping the people around them to pitch in and provide support too.
For example, Tom, a friend of Amy's, might receive a text like this:
"Hi, Tom. One way to support Amy is by asking her to share stories about Fran in earlier times, before dementia affected her. Expressing your desire to hear a favorite story about Fran is a meaningful way to show support."
3. We save you time and postage by texting bereaved families reminders of your organization's events and updates.
Grief Coach texts can be customized to include messages and event reminders from your organization. This can help relatives and friends of the person who died feel more closely connected to others with similar losses—as well as to your organization.
For example, you might send a custom message like this to your Grief Coach subscribers:
"Hi, Amy. This Saturday, Dementia Care Miami is hosting a candle-lighting and picnic for bereaved families. This could be a meaningful place to honor your mom and meet others who are navigating grief. Click here to RSVP.
----
Interested in providing Grief Coach text messaging through your organization? Email us to learn more.