Three texts to send a friend grieving the sudden, unexplained death of an infant or child, in partnership with Red Nose Australia
Shelby Forsythia · 1 July 2022
The sudden, unexplained death of an infant or child is devastating, and leaves parents and caregivers lost for answers. We've partnered with Red Nose Australia to deliver text message support to people families grieving these painful losses. If you're unsure of what to say to someone who lost a baby or young child, these helpful text message suggestions from Red Nose Australia are a great place to start.
Remember With Them
Set calendar reminders for their important grief dates including milestones their baby or child would have someday achieved. They'll appreciate having someone to remember with.
For example: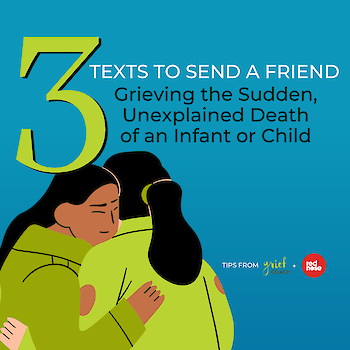 "Hi, Delilah. I know I can't take away your pain, but I do want to tell you that I won't forget. I will remember Macy with you for as long as I live."
Reassure Them That They Get To Make Decisions About Next Steps
When a baby or child dies, emotions can run extremely high. Your friend may feel pressure to choose quickly or give in to someone else's expectations. Remind them that they get to decide how they want to honor their baby or child.
For example:
"Hi, Kent. You are Mica's dad, so you get to choose what happens next. I've got your back."
Listen As They Share Their Emotions
Your friend may feel angry, confused, hurt, and alone. They may also be wrestling with big, complicated questions that are impossible ot answer. Be there for them, and let their emotions be okay with you.
For example:
"Hi, Ray. I'm here for it all. No matter what you're feeling—from shock to rage—it's okay with me."
----
Whether you've lost a baby yourself or you're supporting someone who has, you can receive more wisdom from Red Nose Australia, as well as other grief experts, when you sign up for Grief Coach texts.