Happy to be sharing Lantern's warm, accessible and practical funeral planning and grief resources with Grief Coach subscribers
Emma Payne · 12 October 2019
Some partnerships take months & months to forge, and then there are the ones that make sense right away ... the ones where you instantly have at least 30 ideas about ways you can support each other.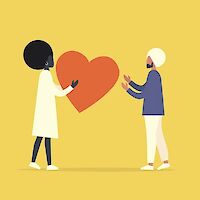 That's how I felt a few weeks ago, after a meeting with Liz Eddy, the founder of Lantern.co. Lantern provides free, custom checklists for funeral planning and beyond. Their approach is warm and accessible, and gets right to the point. These days, if you're planning a funeral, you want practical tips from someone who has been there .. and that's just what Lantern provides. I'm excited about sharing Lantern's beautifully-crafted resources with Grief Coach subscribers, like this article about how to be supportive when you're not the primary griever. We'll also be weaving some of Lantern's wisdom into the personalized text messages we send to our subscribers.
Thank you to Liz, and her team, for helping to re-imagine loss and end-of-life. It's exciting seeing new companies like Lantern who are truly elevating this space.