Grief Coach welcomes new affiliate, Chelsea Ohlemiller
Shelby Forsythia · 12 January 2022
Meet Chelsea Ohlemiller, creator of Happiness, Hope & Harsh Realities and Grief Coach's New Affiliate Partner!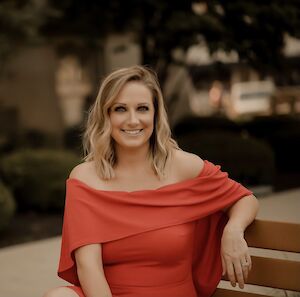 Grief Coach is delighted to announce our newest affiliate partner, Chelsea Ohlemiller, creator of Happiness, Hope & Harsh Realities, a blog and video series sharing vulnerable stories of life and grief.
After the unexpected death of her mother in 2017, Ohlemiller heeded her mom's long standing advice to share her writing with others and found community and catharsis in the midst of her pain. Her graduate school project, a Facebook Live series called "Grief and Goodbyes," is watched by thousands each week, and she's continued to create new episodes well beyond her graduation in July 2021.
When it comes to being a Grief Coach affiliate, Ohlemiller says, "In a world of constantly evolving technology, I was so encouraged to hear about this text-based service offering grief support that is tailored to each person's grief experience." And no matter how long it's been since your loved one died, Ohlemiller knows the value of ongoing support: "Grief Coach gives both new and experienced grieving hearts reminders, tips, and education to help support continued healing and hope. It makes grief feel survivable, especially when you feel like you have no one to talk to after a loss."
Followers and readers of Happiness, Hope & Harsh Realities can now receive a discount on Grief Coach subscriptions, giving them immediate access to personalized, year-long texts for grievers and tips and date reminders for their supporters too. You can use Chelsea Ohlemiller's discount to sign up for a Grief Coach subscription for yourself, or as a sympathy gift for someone you know who's grieving the death of a loved one.
Want to join our fast-growing team of affiliates? Reach out to Affiliate Manager, Shelby Forsythia to learn more.