Grief Coach now available In Tagalog
Emma Payne · 21 July 2021
Grief Coach started delivering our text-based grief support in Tagalog this week. We're proud to be reaching grievers where they are - right on their phones - and to be supporting the Filipino community at a time when more support is desperately needed. In tandem with our new text message support program for healthcare workers, Grief Coach is one of the ways that healthcare providers can immediately support their grieving staff members.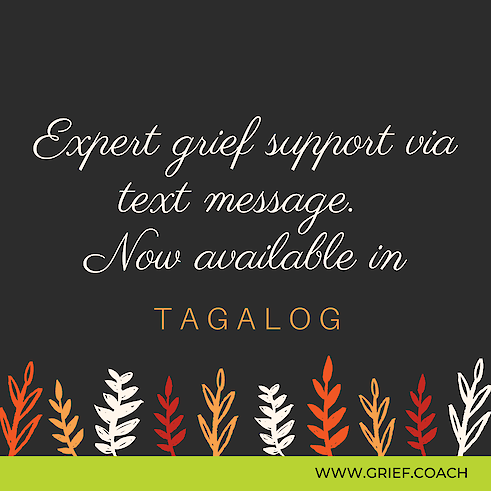 In May Time magazine reported on the devastating toll COVID-19 has taken on Filipino nurses in the U.S. According to National Nurses United, as of April 2021, 24 percent of the nurses they surveyed who died from COVID-19 complications were Filipino; but, Filipinos only make up 4 percent of the total registered nurses in the country. The CDC now recognizes that every COVID-19 death leaves an average of 9 friends and family members bereaved, and so we find ourselves - as a nation - with an obligation to support the healthcare workers who have spent the last year and a half supporting us, as well as their bereaved friends and family members.
Grief Coach is committed to making sure that nobody has to grieve alone, and adding new language support for Tagalog speakers is another step towards realizing that goal. We're grateful to healthcare leaders at Covenant Care and Nathan Adelson Hospice for being among the first to point out the urgency of supporting Filipino healthcare workers, and encouraging us to prioritize our Tagalog service. They recognized the need before Time Magazine reported on it, and helped us move quickly to meet that need.