You're grieving. You're overwhelmed. But when people ask how they can help, you draw a blank
Emma Payne · 28 August 2019
Are flowers and casseroles what you really want when you're grieving? Probably not. Here's how to get the invaluable support you need after a loss.
I'll never forget a conversation I had with my friend Alison the week after my husband died. I had just moved from the UK to Canada, and was getting set up in a hastily booked apartment. Alison asked me what I needed. "Nothing," I said, unable to think straight about much of anything. "Do you have any sheets to sleep on tonight?" she asked. "No," I said. "How about plates or utensils or food?" she continued. "No, I don't have those either." We laughed, and Alison proceeded to do the thinking for me. I was lucky.
Later I learned that nearly all grieving people struggle to articulate their needs, particularly in those disorienting first few weeks and months. People ask how they can help, but we can't think of what to ask for. And then those well-meaning friends do the only things they can think of: they send flowers or deliver casseroles. A week later the flowers are wilting and the casseroles are uneaten, because we don't have much of an appetite.
What grieving people really want
Aside from bringing our loved ones back, what grieving people really want is surprisingly simple. We want our friends and family to be present. We want them to sit and eat with us instead of leaving food on the doorstep. We want them to help us navigate the scariest waters we've ever known, to let us cry when we're sad, and to invite us to talk about the person we've lost.
But how do we ask for that? How can we ask our friends to be more present, and who can help THEM to navigate these difficult times?
I created Grief Coach, a text messaging service, as one answer to this question, and the feedback from subscribers has been more heart-warming than I ever could have imagined. One person told me that she wished someone had bought a Grief Coach subscription for her sister, when her husband died suddenly. "I know she wanted to support me, but she didn't know how, and that hurt."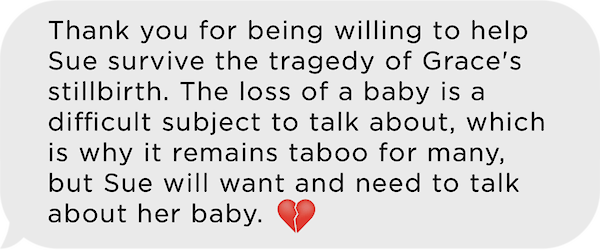 Another subscriber purchased a Grief Coach subscription when her baby was stillborn. She was devastated about the loss of her son, but was also struggling with feelings of isolation. Her best friend had flown across the country to help with the new baby, but when she found herself dealing with a death instead of a birth, she left, claiming: "I don't know how to be with you when you're like this."
This courageous Mom started getting text messages right away, to help with her grief. She also added her friend to the subscription so that she could also get tips and suggestions for how to help. Just a few days later, the friend reached out to us saying, "thank you for understanding this is hard for me too. I want to help, but don't know how."
Since then the friend has been receiving our text messages each week. With just a little support, she feels more confident and better equipped to support her friend through the tragedy of her stillbirth. To me this was a profound shift. Instead of running away, a good friend was able to stay present during a very painful time. She educated herself, she listened and she learned.
Our text messages help grievers too. One subscriber shared this.
"When reading Grief Coach text messages I feel as if someone I trust — someone who has gone through this themselves — is speaking directly to me. It's not a subscription or a generic text. The messages are personal and thoughtful; they help me to process my grief and keep my Dad in my heart."
Grief is tough. But it's made so much easier when we have people with us for the journey. So the next time someone asks how they can help, why not suggest a Grief Coach subscription — for you, and for them? For about the same price as a bouquet of lilies, you (AND your supporters) can get personalized messages all year long, well beyond the point when many people vanish from the scene and get back to their regular lives. You'll have a group of educated, caring people who know how to listen, have concrete suggestions for how they can help, and who are getting support themselves.
Sign up for a Grief Coach subscription and you'll start getting personalized text messages right away, based on your loss. Better yet, you can add friends to the subscription at no extra cost, so that they can also get suggestions for how they can support you this year.