Text Messages provide support after an addiction loss
Emma Payne · 5 February 2020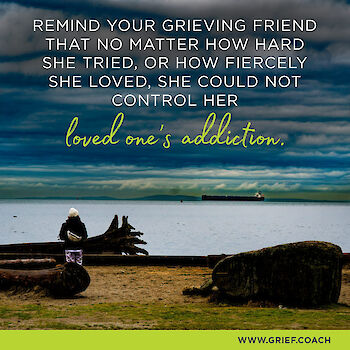 In January Grief Coach launched a series of text messages to support people who have lost someone to addiction. With opioid, drug and alcohol deaths taking unprecedented numbers of people away from their loved ones, I was especially grateful to have input from Diane Snyder-Cowan, Director of Bereavement for the Hospice of the Western Reserve. Diane's deep expertise helped us create messages that are appropriate, supportive and specific to addiction loss.
I'm so glad when I hear that our messages are providing a little relief and understanding for our grievers, but sometimes I think it's the messages we send to their friends & family members, that matter the most. Here are some examples of the text messages we send, all year long, to the courageous supporters who truly do want to help after someone dies, but need a little help themselves along the way.
Hi, Pamela. The stigma society imposes for substance abuse losses can be overwhelming. Eleanor may be worrying about how people will judge her, her family and Marcus. Do your best to remind Eleanor that addiction is misunderstood by many, and that while she may feel shame, you will support her as you would with any other loss.
Hi, Heather. Joanne may be angry with Steve, as well as with herself and others who may have played a part in Steve's addiction. Help Joanne to find healthy ways to express these feelings if you can. It's better to release anger than to keep it bottled up.
Hi, James. Experts know that it doesn't matter how much money we have, or how hard we love, we are powerless to control someone else's addiction. Talk to Tamara about this, if she shares any feelings of guilt or responsibility for Tyler's death.