My meeting with CNN's nominee for "Hero of the Year"
Emma Payne · 27 November 2019
I set my alarm early yesterday morning, and I'm glad I did. My conversation with Mary Robinson, the Founder and Executive Director of Imagine, was far more energizing than an extra hour of sleep would have been.
Imagine is an organization in New Jersey that provides free grief support to children and teens. They use a peer-based model, because they know how important it is that grieving children know that they are not alone. Mary's vision is of a world where loss is transformed into resilience, empathy and compassion. This vision resonates with me, because when my husband died I found it frustrating to be told I'd "get through my grief." Simply surviving didn't motivate me, but when I started reading about people who gained strength through loss, and found ways to turn their pain into meaning, then I began to see a way forward. I wouldn't just survive, I would thrive.
Mary was only 14 when she lost her Dad, and still has the sympathy card she received her neighbor back then. The card said, "Dear Mary, I am so sorry for your great loss. I always think unhappy times are the hardest for young people to bear. But I think they have a way of making one grow up with a lot more compassion." Mary held onto that card, even as it yellowed, because it gave her hope that something good could come from her pain.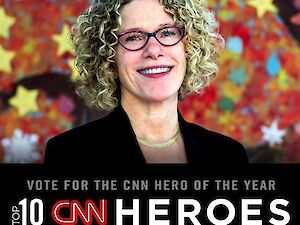 And indeed it has. Today Mary is one of 10 nominees for CNN Heroes, an annual campaign that celebrates individuals "making extraordinary contributions to help improve the lives of others." The organization she founded has helped thousands of young people in New Jersey, to emerge from their grief, more resilient, more compassionate, and ready to contribute to their own communities. Her Dad would be so proud.
All the nominees this year do wonderful work, but as we see the negative impacts of unsupported grief in our young people, I'd love to see Mary's organization win the $100,000 award so that they can help thousands more children this year. Please read about the nominees and consider joining me in voting for Mary as CNN's Hero of the Year. You can cast ten votes daily! Vote now.