Meet four of Grief Coach's expert contributors
Emma Payne · 3 March 2020
Every day I meet passionate, caring experts who support people after a death. From bereavement managers to death doulas, chaplains, therapists and support grief facilitators, I can tell you that these are not regular people, doing regular jobs. They're experienced grief workers, each with their own deep troves of wisdom. They know what helps, and what doesn't, when to make suggestions, and when to just listen. In short, they know exactly what we all WANT to know, when someone we care about loses a loved one.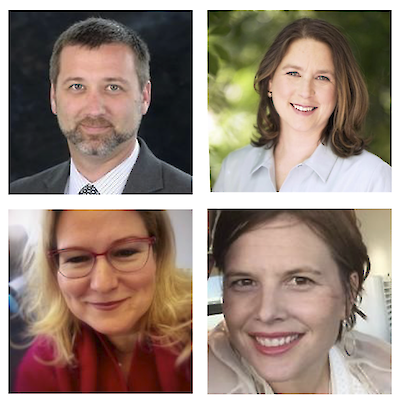 Best of all, they're Grief Coach's expert contributors, each with their own areas of expertise, and each committed to helping us make sure our text messages are thoughtful, appropriate and customized for the many different kinds of losses our subscribers are working through. Let's meet 4 of them.
Andy McNiel is an Executive Partner at The Satori Group and was previously Chief Executive Officer of the National Alliance for Grieving Children. Andy helps to make sure our text messages are appropriate for children and teenagers.
Kelsey Crowe speaks and writes about empathy. Her book, There Is No Good Card For This, is a treasure trove of advice and we're so grateful for the text messages she's helped us write, with practical tips for how to be there when things get tough.
Michelle Post is a licensed therapist, the Board Chair for the American Association of Tissue Banks (AATB) and Board President for HealGrief. She's crafted messages for Grief Coach subscribers, focused on mindfulness and how to muddle through the emotional tumult of grief.
Laurel Marlantes is the Founder of Modern Mourning, an organization that helps people heal after the loss of a child. I am so grateful to Laurel, for the ongoing support she's provided as we've worked to refine our text messages for people who have suffered a pregnancy or infant loss.
It can be easy, in this line of work, to feel overwhelmed by the immense amount of grief people are carrying. I hear heartbreaking stories every day, and know that there will never be enough therapists or support groups to help everyone who is grieving. But working with Andy, Kelsey, Michelle and Laurel, and our many other expert contributors, fills me with optimism and a knowledge that there is more than enough compassion and wisdom to go around. While we may sometimes feel frozen in our tracks, not sure what to say or do when someone dies, these experts know exactly what to say, and are willing to share their knowledge with the rest of us. I am proud that Grief Coach puts their thoughtful tips and suggestions directly into the hands of people who need it. At the right time. And in a way they can digest it. All year long.