Grief Coach affiliates share small but meaningful ways to remember a loved one during the holidays
Shelby Forsythia · 16 December 2021
For many grieving people, the holiday season is a far cry from "the most wonderful time of the year." The seemingly never-ending stream of parties, parades, and to-dos can make it harder than usual to set aside time to honor your grief. However, designating a moment or two to commemorate a loved one can help you feel like your loss is a welcome part of the holidays; not an afterthought or a sad reality relegated to the sidelines.
My name is Shelby Forsythia. This summer, I was invited to become an affiliate for Grief Coach and in November, I was hired on as the Affiliate Program Manager! It's a privilege to assist others in spreading the word about Grief Coach's text-based grief support, and of course, our affiliates are an invaluable wealth of knowledge on life after loss.
This month, I asked my fellow Grief Coach affiliates:
Amidst the bustle and merriment of the holiday season, what's one way you remember a loved one who died?
See if you're able to incorporate any of the following suggestions into your own holiday activities.
Keep a Holiday Tradition Going
While your loved one can no longer physically be here, practicing something they used to do during the holidays can help you feel closer to them, as if you're carrying forward a torch they held in life. Marina Morgan, Marketing Manger of Eirene Cremations told me: "We recommend honoring the deceased by keeping their holiday traditions alive—whether that's through integrating their recipes into your holiday dinner, or even through fun holiday traditions that remind you of them."
Of course, I couldn't resist providing this helpful holiday exercise inspired by my recent book Your Grief, Your Way: Set a timer for five minutes and make a list of every tradition you remember your loved one spearheading, participating in, or simply enjoying. This could be baking Christmas cookies or offering a special gift during Kwanzaa. When your time is up, see if one tradition stands out to you or feels more logistically or energetically doable than the others. That might be a good contender for a tradition to repeat year after year.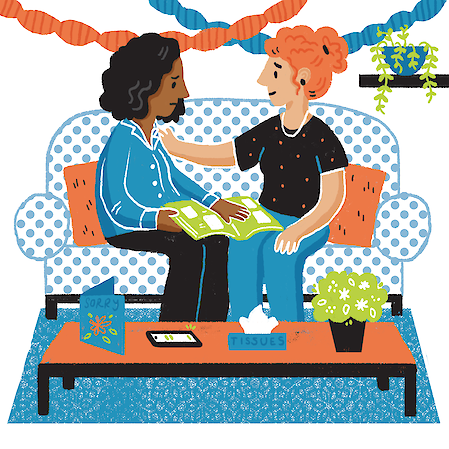 Decorate with a Special Ornament or Keepsake
Ashley Jones, founder and executive director of Love Not Lost uses visual cues and physical totems to recall memories of her daughter this time of year: "I remember our daughter through certain decorations or ornaments we have in the house. On her last Christmas in Atlanta, it snowed! So if we get flurries, that makes me think of her too."
Consider whether you have a unique physical item that brings your loved one a little closer to home. A favorite scarf, a beloved menorah, or a handmade ornament is a beautiful way to invoke their presence in your life.
Bring on the Food
Several Grief Coach affiliates let me know they feel closer to departed loved ones through the ritual of cooking and eating food. Smell and taste are some of our strongest senses, after all! Catherine Hinz, Founder and CEO of Beyond Words Co. wrote me saying, "Holidays have a way of bringing back memories of my grandmothers. Having butterscotch candies set out in dishes and making a simple but beloved summer sausage sandwich brings both a smile and a touch of their presence during this time. Making meals with love for others (and donning a well-worn apron) provides a way to honor their spirit."
Kim Murray of Widow 411 echoed honoring her loved one via a sweet treat: "My husband loved pie, specifically Chef Pierre's Fruits of the Forest Pie which he requested every year for dessert after dinner on Christmas Day. We've kept this tradition in his memory and I know he's with me when I make the trek to Gordon's Food Service to pick up the pie. I always get a nudge to go ahead and pick up an apple or a pumpkin pie too!"
While your loved one can no longer be present to enjoy seasonal goodies with you, it may be helpful to think of their delight as you choose to indulge in one of their favorite foods.
Visit a Physical or Digital Memorial
If you're feeling up to it, a visit to a cemetery, religious building, or other special place could be a meaningful way to honor a loved one during the holiday season. Cleaning off a headstone or taking a moment to place fresh flowers on a memorial bench can help you feel closer to your loved one—and like you've purposefully taken time out of your schedule to remember them.
If weather is nasty or if your hectic schedule doesn't allow you to physically visit a specific location, consider spending some time visiting a digital memorial. Brayden Bernstein, founder of Akeeva, shared, "I remember my grandparents who have passed through their own Akeeva Digital Legacy; a modern memorial with unlimited tributes, photos, anniversary reminders, and more." You can find Bayden's digital memorial for his grandmother here.
Dance to a Beloved Song or Album
Many grieving people lean on music to bring forward memories of their loved ones, especially during the holidays. Grief educator V. Ophelia Rigault told me: "I remember my loved ones by listening to their favorite holiday music. I get up and dance and smile and remember my mother's love of Christmas."
Whether you're dancing your grieving tail off to "Carol of the Bells" or quietly lighting a candle in memory of a loved one, all of us at Grief Coach wish you a gentle holiday season. We are grateful to be a resource on your grief journey, especially this time of year.
----
Want to join our team of affiliates and have your wisdom featured in an upcoming Grief Coach blog? Reach out to me at shelby@grief.coach to learn more.